Posts for tag: tooth pain
By Katelyn Nieten, DDS
September 02, 2021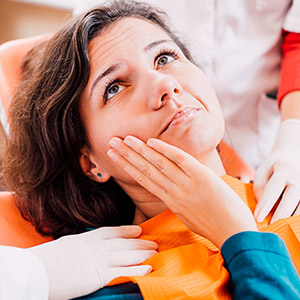 While mouth pain can certainly get your attention, what exactly hurts may be difficult to identify. It might seem to emanate from a single tooth, or a group of teeth. Then again, it might not be clear whether it's coming from teeth or from the gums.
Still, it's important to pinpoint the cause as much as possible to treat it correctly. One of the main questions we often want to answer is whether the cause originates from within a tooth or without.
In the first case, tooth decay may have entered the pulp at the center of the tooth. The pulp contains nerve bundles that can come under attack from decay and transmit pain signals. Incidentally, if the pain suddenly goes away, it may simply mean the nerves have died and not the infection.
The decay can also spread into the root canals leading to the root and supporting bone, and then make the jump into the gum tissues. One possible sign of this is the one mentioned earlier—you can't quite tell if the pain is from the tooth or the surrounding gums.
The root canals could also serve as a transportation medium for infection in the other direction. In that case, gum disease has advanced into the bone tissues around a tooth near its roots. The infection can then cross into the tooth. Again, both a tooth and the gum tissue around it can become diseased.
We have effective treatments for individual occurrences of interior tooth decay or gum disease: The former usually requires a root canal treatment to remove infected tissue and fill and seal the tooth from future infection; we alleviate gum disease by removing the dental plaque causing it and helping the gum tissues to heal. But combined tooth and gum infection scenarios are more difficult to treat, have a poorer prognosis and may require specialists.
To reduce the risk of either tooth decay or gum disease developing into this greater problem, it's best to take action at the first sign of trouble. So, see your dentist as soon as possible when you encounter oral pain or if you notice swollen or bleeding gums. The earlier we treat the initial outbreak of disease, be it tooth decay or gum disease, the better your chances of a successful and happy outcome.
If you would like more information on tooth pain, please contact us or schedule an appointment for a consultation. You can also learn more about this topic by reading the Dear Doctor magazine article "Confusing Tooth Pain."
By Katelyn Nieten, DDS
May 07, 2018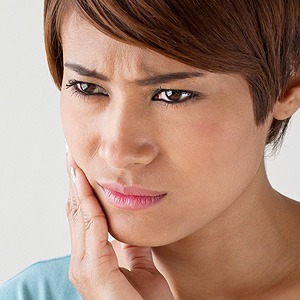 Although toothaches are common, not all tooth pain originates from the same source. But regardless of its cause, you need to take prompt action to find out and begin treatment.
Sensitive teeth, for example, usually cause a quick stab of pain when you eat or drink something hot or cold or when you bite down. If the pain lasts only a second or two, you may have a small area of decay in a tooth, a loose filling or an exposed root. The latter often occurs either because of over-aggressive brushing or periodontal (gum) disease. In both cases, the gums may have shrunk back or receded to expose the root surface.
A sharp pain when biting down may be a sign of decay or a loose filling; it could also mean you have a fractured or cracked tooth. For any of those causes, you'll need treatment to repair the problem and relieve the pain.
You may also experience a lingering tooth pain ranging from dull to sharp, or localized to one tooth or seeming to radiate from a general area, such as above the upper jaw. There are a number of possible causes, but two prominent ones are an abscess (a localized area of infection that's become inflamed) or deep decay within the pulp, the heart of a tooth.
This usually calls for a root canal treatment for the affected tooth. In this procedure we drill an access hole into the pulp and clear it of infected and dead tissue. We then fill the empty pulp chamber and root canals with a special filling and seal the access hole. Later, we bond a permanent artificial crown to the tooth to further protect it from re-infection.
Whether your pain is momentary or lingering, dull or sharp, you should see us as soon as possible to determine its cause. You should still see us even if sharp, lingering pain goes away — this could simply mean the infected nerves in the pulp have died but not the infection. The sooner you have the cause of your pain treated, the better your chances of a happy and less costly outcome.
If you would like more information on tooth pain and what to do about it, please contact us or schedule an appointment for a consultation. You can also learn more about this topic by reading the Dear Doctor magazine article "Tooth Pain? Don't Wait!"